BettinaIncEntertainment and Cinemarks.net (PRODUCTION COMPANY) is committed to making feature films and developing original television programming that can improve lives by telling stories that focus on diverse social, cultural and political subjects that are both entertaining and provocative and resonate with emotion inspiring new ways of thinking, feeling and acting in a popular audience.

She has worked in a variety of capacities in film production but has focused most of her energy on her own film work. Her films and film installations have been shown in New York, California, Montreal and Berlin. Her first two shorts, Still Life and Dialogue premiered in the Berlin International Film Festival. Dialogue was included in the Montreal Festival of Films and Videos by Women and was screened at the Knitting Factory in New York. It was acquired and aired on A&E for a period of one year. Still Life was screened at a Tompkins Square Park Festival in New York and received superlative reviews from Karen Cooper of The Film Forum and AmyTaubin, former film critic of the Village Voice. Sync was a finalist for consideration for production funds from the American Film Institute's development grant for dramatic film and along with In the Wake of Illusion are two features in development. The Scream, a new thriller, is in pre-production.
Movies In Development
In the Wake of Illusion
©InThe Wake of Illusion2016 by BettinaMarks – is the story of one woman's
journey of passion, pain and self discovery. A turbulent romantic drama spanning three continents, it set against the fall of Communist Russia and the political uprising in Georgia. It centers on the passionate love between a handsome young Turkish immigrant and his New York wife, whose American dream turns into her nightmare when he is forced to make difficult choices about where to place his family allegiances.
Sync
Sync is a para-normal psychological drama (a la Vanilla sky) that uniquely tells the never-ending story of sibling rivalry between an oldest and youngest daughter as one's pain infiltrates the others subconscious wreaking havoc with her sense of time and reality.
The Scream
©The Scream2016Bettina Marks – An eerie scream from a woman being raped penetrates the Meat market district while busy New Yorkers question their consciences about taking action. (Inspired by the true story of the Kitty Genovese murder in Queens and Edvard Munch's painting).
Premiered at the Berlin International Film Festival
Dialogue
Depicts the first meeting of a man and woman at a friend's party, she a young photographer from California, he a writer from New York, and follows them through to their potential date. By dramatizing the awkwardness and difficulties that the couple have at their first meeting and through the use of montage, documentary footage and surreal imagery interposed in their conversation, it uses them as an example, a microcosm, for the way people communicate on a grander scale. The film creatively threads together personal, social and political themes, clarifying the connections between them.
Still Life
is a portrait of a woman with aspirations of a career as an artist during the time when most women remained at home. She is stuck in an unhappy marriage in which she is dependent and too terrified to leave. The images tell the story of her life; her hopes and dreams, but the telling and ominous voice over details the effects of her retreat into depression as seen through the eyes of her eldest daughter.The film reflects some of the problems faced by a woman living out a traditional role, who, unable to achieve her goals or express her anger, turns her frustrations inward. In the process, mother and daughter's roles reverse, creating a painful dynamic of moral support and suffocation.
Television Series In Development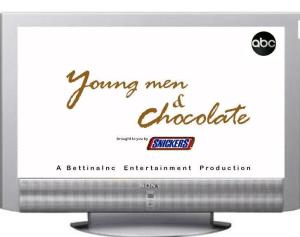 Young Men & Chocolate